Teeccino Recipes
Recipes
There are so many ways to use Teeccino – just as there are many ways to use coffee as flavouring in cooking. Many recipes we've discovered are delicious made with Teeccino – those sent to us by both professional chefs and by Teeccino fans! There are lots of ways to enjoy Teeccino besides just brewing it. Plus you can use the brewed Teeccino grinds in many of the recipes – they add texture and flavour. Teeccino ingredients are so good, we often munch on them while making a Teeccino blend. Think of it…dates, figs, almonds, roasted carob… what could be yummier?
Teeccino Cheesecake
When one of our staff members brought this delicious cheesecake to our office, everyone went nuts. How could it be so simple to make and yet taste and look like it took hours to prepare?
OK, we know this isn't exactly on the diet plan, but it is on the occasional indulgence plan! Delicious!
Ingredients
2 pre-made pie crusts
3 x 250g packages of cream cheese, preferably organic
1 cup sugar, preferably organic
4 eggs, preferably organic
500g sour cream
1 tsp vanilla extract
3 tbsp French Roast Teeccino grounds
1/4 cup strongly brewed French Roast: (To make strongly brewed French Roast: Infuse 4 tbsp French Roast Teeccino in 1/3 cups boiling water for 3 minutes.  Strain through a fine mesh metal strainer, paper filter, or one cup brewer.)
Directions
Pre-heat oven to 150 degrees C
Using stand or hand mixer at medium speed, beat cream cheese until smooth
Add sugar, beat mixture until smooth
Add 1 egg, beat mixture well, repeat with rest of eggs
Add sour cream, vanilla, ground Teeccino and brewed Teeccino.  Mix until smooth
Pour mixture into the 2 pie crusts
Place each pie into a large baking pan.  Fill the bottom of the pan with water
Bake at 150 degrees C until cheesecakes are set in center (shake gently to check), about 50 minutes.  Add more water to the bottom of pan during baking if needed
Remove pies from oven and let cool at room temperature for at least 30 minutes
Chill pies in refrigerator until cooled throughout, about 2 hours (if you are in a hurry, can chill in freezer for about 30 minutes)
Dust with cocoa powder and serve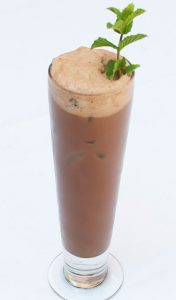 Chocolate Mint Cooler
Fresh mint leaves blended into Teeccino Chocolate Mint give this drink an extra hit of refreshing coolness. Cocoa powder is an ingredient in Teeccino Chocolate Mint but by adding even more, you get a truly rich chocolaty drink that doesn't have too much sugar compared to cocoa beverage mixes. Instead, maple syrup produces just enough sweetness to gratify the sweet urge and overcome the natural bitterness of cocoa powder.
What makes chocolate really pop out is cream, pure and simple, but using a low-cal alternative will still turn this Teeccino Chocolate Mint Cooler into a fabulous dessert drink or simply a great pick-me-up on hot days.
Ingredients
1 Cup – Teeccino Chocolate Mint, brewed and chilled in advance
1 Tbsp – Cocoa powder
½ Cup – Cream, Almond Milk Creamer, unsweetened or low-fat milk.
¼ Cup – Maple syrup
3 Leaves – Spearmint, fresh and de-stemmed
1 twig of spearmint for a garnish.
Directions
Brew Teeccino using 4 rounded tablespoons per 8 cups water in a drip coffee maker or 1 tablespoon per cup water in a French Press.
Chill the brewed Teeccino in the refrigerator for a couple of hours or in the freezer for an hour.
Into a blender, add Teeccino, cocoa powder, creamer, maple syrup and fresh mint leaves.
Blend thoroughly.
Pour into a tall glass and garnish with a spearmint twig.
Sip away and enjoy!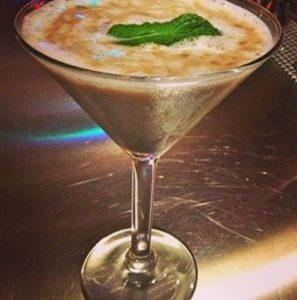 Teeccino Martini
Oh, you MUST try this Teeccino Mocha Mint Martini recipe using our newest flavour Dandelion Mocha Mint – it's one of our favourite recipes!
Simple and refreshingly cool with just the right balance of sweet and dark flavour notes. The flavour of vodka is understated, so be careful; these Mocha Mint "Teeccinis" go down easily!
Ingredients
45ml vanilla vodka
30ml chocolate liqueur
60ml brewed Dandelion Mocha Mint Teeccino, chilled
Chocolate shavings (white or dark – simply grate a chocolate bar with a fine grater onto a dish)
Orange juice – just enough to fill a small saucer
Small sprig of fresh mint for garnish – 1 for each cocktail
Directions
Dip rim of martini glass in orange juice, then dip rim of glass into chocolate shavings.
Fill martini shaker with ice, add vodka, chocolate liqueur and cooled Teeccino.
Shake then pour into martini glass.
Embellish with a sprig of mint to the side of the glass
ENJOY!